All Farm Road names have now been changed to FM names. For example, Farm Road 41 is now FM 41. This means all current and future listings, as well as previous listings for the past 3 years now show FM instead of Farm Road. If the street name auto-populates from the tax data and the tax data has the street name as something other than FM, you will still need to look up the street name to ensure the listing submits successfully.
New features:
Private Pictures: on the right of the Manage/Upload Pictures toward the bottom there are 3 options. The middle one (Mark MLS Only When Off Mkt) allows you to select any picture – except the first one, at any time before the listing goes off-market (Sold, Rented, Terminated, Expired) and it will be removed from 3rd party sites while staying available in the MLS. This is helpful when the new owners don't want interior pictures available online, but it still lets appraisers and agents see the pictures. Now there is no need to delete pictures from your listings.
Known issues in Rapattoni:
Unable to delete Incomplete listings
Unable to print labels from Atlas Tax
The Layers in Atlas Tax and the Interactive Map are not working.
Known issues from other sites:
Farm listings should start to syndicate to Lands.com (aka Lands of Texas) by the end of the weekend. If it is not, please email Tonya with the Listing#.
User Error Issues:
Manually changing the status of a Coming Soon listing to Active is causing the listing to not syndicate to other sites (Zillow, Realtor.com, Redfin, agent websites). Instead of manually changing the status, go into Status Information and update the On Market Date.
Please remember to not enter yourself as the Selling Agent unless you acted as an intermediary. The correct Selling Agent is the person representing the buyer. We have had an uptick in the number of Listing Agents entering themselves as the Selling Agent when marking the listing Sold.
There is still a problem entering a Selling Co-Agent for teams who require a Co-Agent. The Selling Agent needs to let the Listing Agent know to enter a Selling Co-Agent, and the Selling Agent needs to enter that person as well as the agent they worked with. If someone other than the Listing Agent maintains the listings then the Listing Agent must tell them who to enter as the Selling Co-Agent.
Problems for AT&T Users on ShowingTime is resolved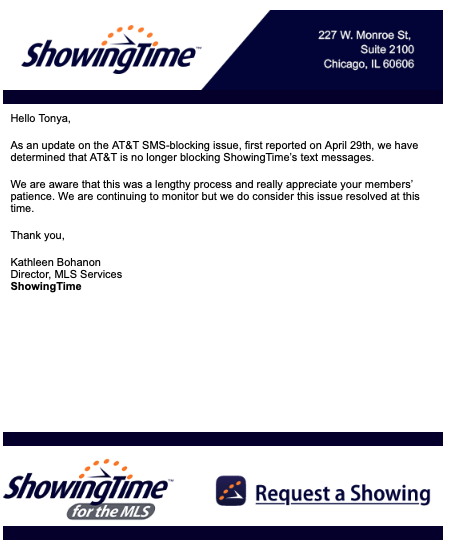 ShowingTime Update for AT&T Users